Welcome to leadpot.com
We know how hard it is for your outbound sales team to find web designing, SEO or Digital Marketing leads….You have come to the right place because we are the top most Lead Generation Company having over 12 years of experience in doing lead generation and our staff has served big web designing and SEO companies in the past.
On an average a sales guy makes about 6-8 dials an hour and that too on the data which is visible to every of your competitor. Also let's not forget the the engagement time they spend in doing research on the account and in the end the result is around 2 appointments a day.
Now, what if you were able to get 3 times better results by spending just 10-15 minutes a day and that too in the fraction of cost you pay?
Returns that our client gets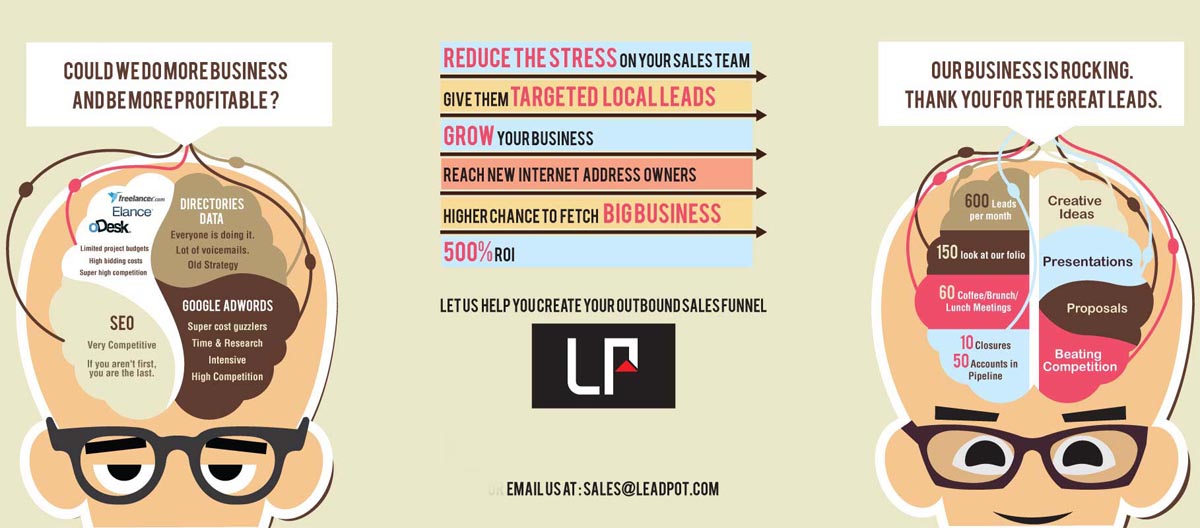 Let's see how it works?
We assign the local hidden leads to you of new business prospects through our CRM of who do not have a website or haven't got indexed on search engines or are doing terrible with their digital marketing. They all need assistance and if you are a local professional offering these services, conversion rate automatically goes high.
With our powerful algorithm in place, we do the advance mining, cleansing, enrichment, telling you the loopholes & comprehensive information that you can pitch and your prospects will be saying "Wow, these guys have done extensive research and seems professional. Let me talk to them".
New local leads are assigned daily and the emails will be sent out using our pre-built email templates or you can customize them on your own using the well deep research insights we give you and you are the first one to reach them.
You are assigned with a local area number & you can record/upload your voice message within your CRM instance and the voice message are delivered to their phone without even ringing their device , your prospect is never charged., so its completely FTC & TCP compliant and they call you back stating they are interested to know more about your services.
As soon as your prospect replies to your email or voicemail, you instantly get the notification and can follow up with them ASAP to discuss their requirements, shoot the Proposal and win your client.
Our clients gets minimum of 50 times return on their investment and we will be here to help you achieve more than that.
Grab your automated intelligent spying sales assistant as we have limited seats in the state of the 25 countries we serve and start filling your pot with leads and you will see why our Leads are equal to Deals.
If you would like to see a demo, please fill your contact information in Request a demo section to see how the system works and how it can grow your business exponentially.
Thank you and we look forward to filling your pot with best leads.